19 junio 2023
Reading time 2 minutes
RoboTractor pilot kicks off a new era of smart logistics
Kalmar has reached a significant milestone in the development of its Robotic portfolio – with a successful pilot of its RoboTractor at customer site Coast Center Base (CCB) Mongstad (Norway). CCB is a busy facility that supplies conventional North Sea drill rigs, jack-up rigs, drill ships and other maritime equipment.
Seeking efficiency
The work that CCB carries out involves a constant stream of service and spare parts both on land and conveyed by service vessels to and from offshore rigs. That's where Kalmar terminal tractors come in, ferrying parts between warehouses and service vessels docked at the facility. CCB's terminal tractors and forklifts constitute an indispensable link in the logistical chain of keeping rigs and vessels running efficiently and safely.
CCB Mongstad is moving towards robotisation in many aspects of their operations for a safer, more sustainable environment. Introducing robotics adds additional safety, efficiency, and helps resolve the acute labour shortage problem so prevalent around the world today.
Robotic transport has arrived
Every decade, it seems, there is a promise of robotic transport that will do away with drivers and put our safety in the efficient hands of robotic vehicles. The RoboTractor pilot project that took place at CCB Mongstad in March and April, 2023 turned that promise into reality. Long in planning and preparation, its execution was close to flawless.
"We were very pleased with the pilot, as was CCB," comments Tommi Pettersson, VP of Strategy, Sustainability and Technology at Kalmar. "This paved the path to a more involved pilot, which will eventually lead to fleet robotisation and significant efficiencies."
The RoboTractor setup is simple: a conventional Ottawa terminal tractor set up for driverless operation picks up and drops off loads automatically. The tractor is outfitted with cameras and solid-state and spinning LiDARs (similar to radar) that enable it to accelerate, brake and steer with high precision, even in pitch black. A three-dimensional map of the CCB campus serves as the basis for the truck's automated route finding, while advanced object-recognition software guides its decision to either avoid an object in its path (such as a rock or a box), or stop and wait until that object (like another vehicle or a bird) moves out of the way.
"The important thing to note with mapping and object recognition is that if something has changed, the RoboTractor can detect the change and still can continue with its task," says Pettersson. "We have reached that level of automated decision making. The technology is 'there'. It's just a matter of finding the right combination of commercial setup and customer demand."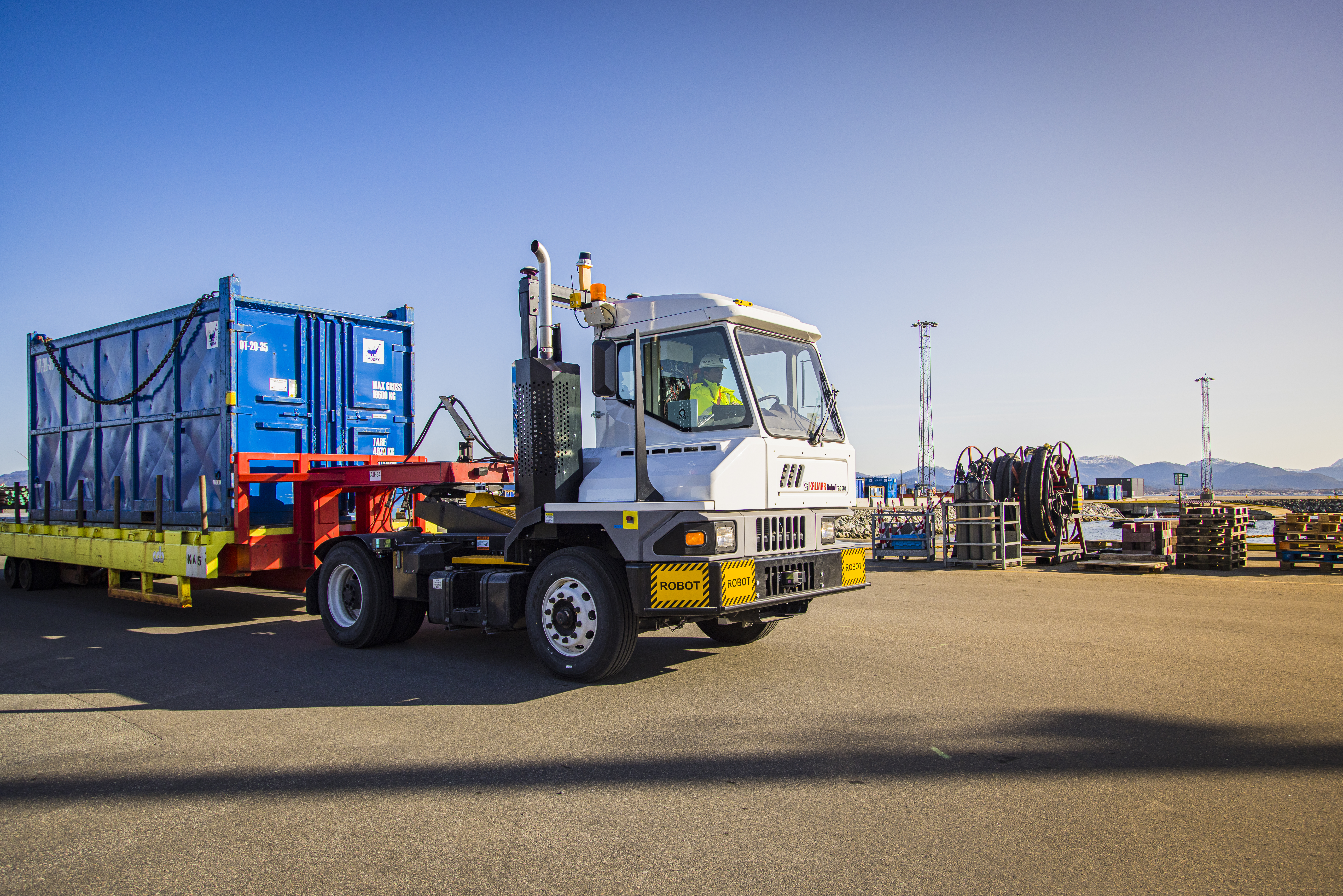 The RoboTractor showed its many merits during the pilot:
Safety:

Since robots do not experience fatigue or distraction, they make no mistakes. Sensors let the robot brain know if the vehicle is in need of service, and its guiding software provides correct decision making for all possible scenarios.

Sustainability:

Robot drivers accelerate and decelerate at optimal rates, which delivers a smoother ride for the cargo, less wear and tear on the machine transmission, components and tires, resulting in less maintenance and service work. It also reduces fuel consumption, whether that be diesel or battery-electric.

Operational flexibility:

With RoboTractor, CCB can plan for 24/7/365 operations rather than working around daytime shifts, planned and unplanned time off, as well as driver training as employees come and go. Most importantly, a shortage of drivers will no longer constrain operations.
Layering up robotisation
The recent pilot involved one RoboTractor with a human driver along for the ride, just in case. The next step is to robotise several tractors, still with safety drivers, and run the pilot for longer.
After that, it will be time to layer up. Instead of giving RoboTractor tasks one by one, a computerised task manager will prioritise tasks and assign them over the course of a given time period. Beyond that, whole-yard optimisation will optimally match all tasks with all terminal tractors. Even this layer can be fully automated once all assets are geo-located and entered into the IT system. The automated yard manager will simply execute on loading containers that need to be shipped.
To find out more about the RoboTractor pilot, watch this video.